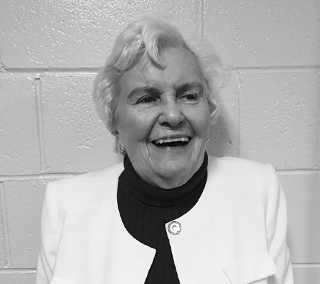 Christine McMillan
Senior Fellow
Favourite quote:
"Never doubt that a small group of thoughtful, committed citizens can change the world; indeed, it's the only thing that ever has." – Margaret Mead
What's closest to your heart?
My family, things that make me laugh, working with like minded people to find better solutions to old societal issues, non violent books, classical music, and in my younger years boating and skiing – both water and snow. I'm also a political junkie!
What book is on your nightstand?
"The Little Old Lady Who Broke All the Rules" by Catherine Engelman
"The Hillbilly Elegy" by J. D. Vance
Betty Freidan's, 1994 , "The Fountain of Aging", my reference book!
Experience:
In 1955, as the Executive Secretary to the VP of Manufacturing, A.V. Roe Ltd., during the exciting development of the Avro Arrow, I left the workforce to become a mother. My first born was handicapped with a language disorder that did not respond to speech therapy. In searching for the help he needed, I became involved with a small dedicated group of parents who formed the Association for Learning Disabilities and subsequently served as the Executive Director. We were successful in having learning disabilities recognized in the Education Act. I now understood the impact of government regulations on individuals. This knowledge created my life long interest in change making through policy development. I ended my working career as a policy advisor with the Ministry of Labour where I earned the title of "Inside Advocate". On retirement, we moved to Kingston and my work on behalf of seniors started at the Council on Aging led to the founding of Oasis Seniors Supportive Living.
Projects: Oasis, Aging Well