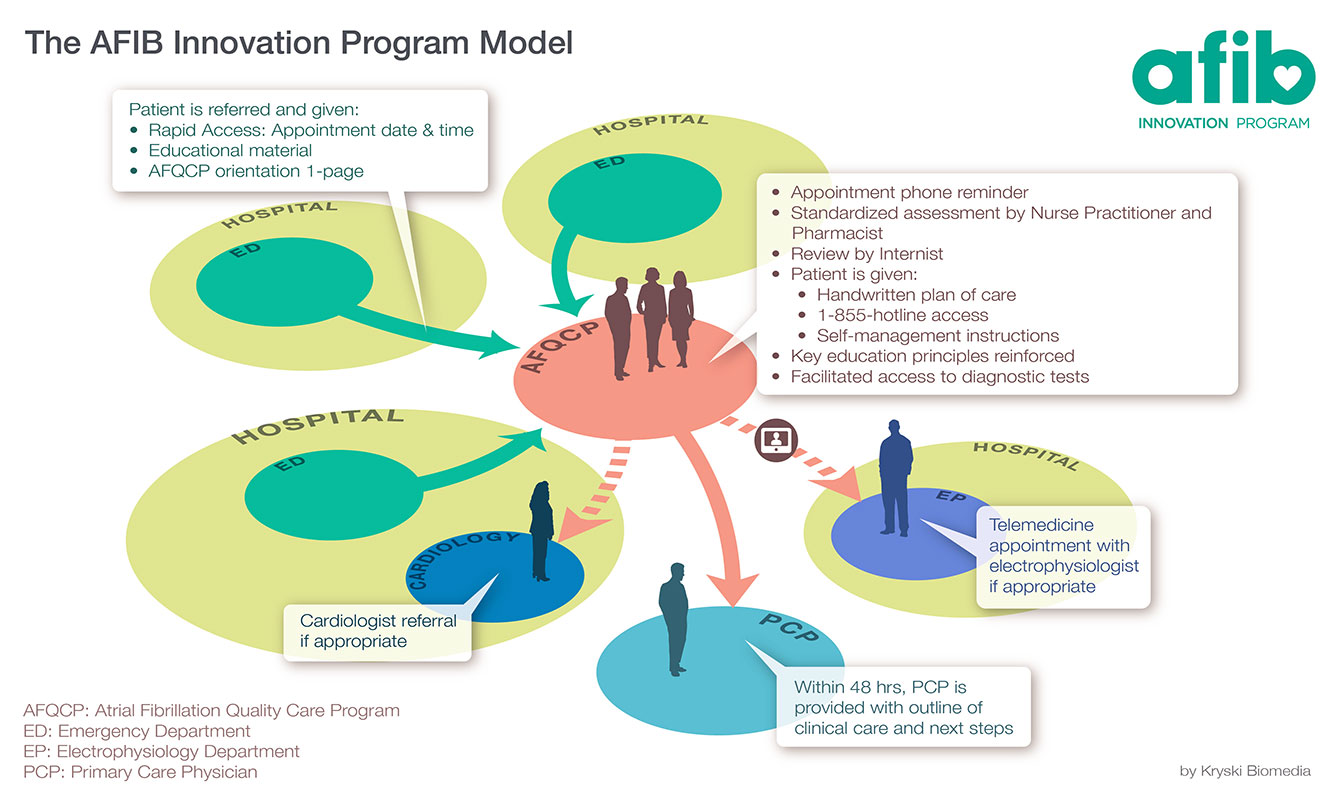 AFIB Innovation Program
Atrial fibrillation (AFIB) is the most frequently encountered arrhythmia, the incidence of which is increasing as the population ages. AFIB can increase the risk of stroke and heart failure, and leads to decreased quality of life. Hospitalizations and treatment for atrial fibrillation can be challenging, costly and resource intensive. The good news is that many AFIB related strokes and other complications are potentially avoidable with treatment. However, many patients aren't receiving that treatment.
Improving this requires a multi-pronged approach, which incorporates an effective infrastructure, process management system in place for the delivery of care. The goal of the AFIB Innovation Program is to redesign the system and process of care for atrial fibrillation that not only reduces overall costs to the health care system itself, but more importantly improves patients' quality of life and clinical outcomes, driving large scale improvement across the system.
We are tackling this problem through intervention at the acute, Emergency management stage, through chronic management in Primary Care, via intervention directly with patients and their self-management and through a project aimed at identification of patients at high risk for AFIB development and subsequent stroke.
OpenLab project members:
Kori Leblanc (project lead), Dalila Villalobos, Kim Tran, Nina Zahr, Dr. Howard Abrams, Kendra Delicaet, Dr. Rob Wu
Collaborators:
Dr. Nazanin Meshkat, Dr. Sacha Bhatia, Dr. Paul Dorian, Dr. Noah Ivers, Dr. Alissia Valentinis, Dr. Andrew Ha, Dr. Bjug Borgundvaag, Dr. Tara O'Brien, Dr. Jon Hunchuck, Maria Timofeeva, Dr. Doug Kavanagh, Dr. David Gladstone, Dr. Muhammad Mamdani, Dr. Lori MacCallum, Dr. Sherryn Rambihar, Dr. Michelle Grinman, Kaye Benson, Boehringer Ingelheim Canada, Ministry of Health and Long Term Care "BRIDGES" Program, St. Michael's Hospital, Health Design Lab, Applied Health Research Consortium, Taddle Creek Family Health Team, Women's College Hospital, Mount Sinai Hospital Emergency Department, Trillium Health Partners Institute for Better Health, Heart and Stroke Foundation, Pfizer Canada