Feb
27
Tuesday 12:00pm to 1:00pm
Toronto General Hospital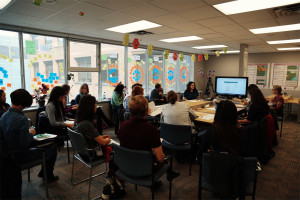 Every Tuesday 12 – 1pm
OpenLab Workshop (Rm. 13N1382)
Toronto General Hospital (TGH)
200 Elizabeth Street, Toronto, Ontario M5G 2C4
https://goo.gl/maps/87lke
Our weekly Open Rounds are, as the name suggests, open for everyone to attend. It is our weekly gathering to discuss progress across all of our projects and to entertain new ideas.
In addition to the OpenLab staff, Open Rounds are often attended by people unaffiliated with OpenLab.
Please join us if you have an interest in a particular project, are curious about OpenLab, want to put forward a new project idea, or just want to meet new people.
Directions:
Open Rounds are held at the OpenLab Workshop, Room 13N1382, on the 13th floor of TGH.  If you enter from University Ave., take the Munk elevators to the 13th floor.  Upon exiting, follow the hallway to your left and enter into the first waiting room on your left.  Walk through the doorway marked Tropical Medicine and turn right when you reach the clinical corridor.  You will find us at the end of that corridor on your left (Room 13N1382)